'Spirited' rings in holiday cheer with intrigue, humor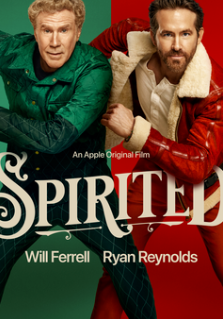 On Nov. 11, the movie "Spirited" premiered in theaters led by a cast including Ryan Reynolds, Will Ferrell, Sunita Mani and Octavia Spencer. This movie has laughs, catchy songs, and yes, an extremely long and seemingly never-arriving ending but all-in-all "Spirited" is an enjoyable movie to ring in the holidays.
"Spirited" is about how on each Christmas Eve, the Ghost of Christmas Present selects one "dark soul" to be reformed by a visit from three spirits. The ghost of Christmas Present Ebenezer Scrooge (Ferell) tries to reform Clint Briggs (Reynolds) who he deems to be the biggest jerk of the holiday season. Briggs has moments throughout the movie that demonstrate this type of behavior, including the time when Brigg's dying sister asks him to take care of her young daughter and Briggs chooses instead to say how busy he is, and pushes her off onto his brother, who does not have as much resources to help take care of her.
Briggs is a social media manipulator and a businessman who is willing to cross lines and negatively impact others to get what he wants. Due to Briggs' behavior, the Ghosts of Past, Present and Future visit him in his dreams and try to convince him through his own nightmares to change his behavior and become a better person. After the Ghost of Christmas Past visits, Scrooge, the Ghost of Christmas Present comes to visit and, after his failed scare tactics, he shows replays of moments in Brigg's life that demonstrate he is a bad person to try to convince Briggs to change his ways for the holiday. However, Briggs has other ideas.
Instead of taking Scrooge's advice and recognizing his wrongs, Briggs decides to show Scrooge's faults as a person and why he ended up as a ghost rather than a living being. Throughout the movie, both Scrooge and Briggs show each other events from their past including mistreatment of family and kids to prove their points. Briggs, eventually through convincing from Scrooge, decides to change his behavior and become a better, more caring person. However, there is a twist. Scrooge was eligible for the last 45 seasons (45 years) for "retirement" from being a ghost and is allowed to come back in human form. As part of the deal with Briggs, Scrooge accepts retirement and comes back as a living being to rewrite his wrongs he had during his lifetime.
This movie has laughs, an interesting storyline and lessons about kindness to help ring in the holiday season. If the ending of the movie was shorter and not as drawn out, it would likely receive higher praise from me but on a five star scale, I would give it a solid four out of five and would highly recommend seeing it before it leaves the theaters.
Leave a Comment
Your donation will support the student journalists of Thomas S. Wootton High School. Your contribution will allow us to purchase equipment and cover our annual website hosting costs.
About the Contributor
Darren Shapiro, staff writer

Darren Shapiro is a junior and a staff writer in his third year on the Common Sense Staff. When he's not writing articles, Darren enjoys watching sports,...