'It Starts With Us' gives love another chance in sequel to 'It Ends With Us'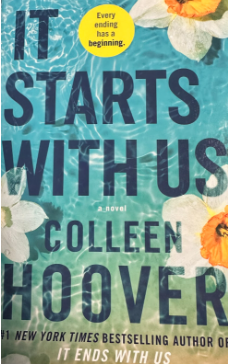 Dear readers, before you continue to read this article, as Colleen Hoover recommends in the first couple of pages, I advise you to read the first book, 'It Ends With Us'. 'It Starts With Us' is a sequel to the first novel; for the best experience take Hoover's and my advice into consideration. With that being said, you can also find my review HERE. As mentioned in my past review, this book includes topics such as domestic abuse that may trigger people. Please proceed with caution.
For the readers who are here to see if the book is worth reading, I'm here to tell you that it is. If you're interested in love triangles, this book is for you.
When I first heard that Hoover was writing a sequel, my first thought was that this book might be about Lily's new life with a baby and Ryle out of the picture. Now let's take a couple steps back and let me remind you of the characters in case you forgot. Lily Bloom had a traumatizing childhood, from being raised by an abusive father to having an abusive relationship with her ex husband, who happens to be Ryle. Near the end of the first novel, Lily gave birth to her daughter, Emerson. Emerson is now 11 months old since the last time she was mentioned in the previous book, which leads me to talk about Atlas, Lily's first love at the age of 15. He was a homeless 18-year-old boy who lived behind Lily's home in a vacant house.
Now that we're familiar with the characters, let's get into the style of the book. The format of this book is different from the last. In this book each chapter is either from Lily's perspective or Atlas'. I find this interesting because we get a first hand look at their thoughts on what's going on. Most of the book is alternating first person.
The novel starts off from Atlas' perspective. It is clear that someone has been vandalizing his restaurant but he doesn't want to report it to the police. Here, we get to see his character. He was reminded of himself when he was younger and homeless, he thought to himself that if he was in their shoes he would want someone to help him rather than cause him more trouble. I think he's blind because at the end of the day he can't save everyone and he's going to be the one who pays the consequences.
We then get informed that Atlas and Lily have had an interaction. They haven't talked since before Emerson was born so their interaction was awkward. This led to Lily and Atlas calling and texting and flirting. This made Lily think about Atlas more and think about what if they can try again now that she and Ryle are over. Will this love work? Or will this be a mistake and cause problems between Lily and Ryle because of Ryles insecurity toward Atlas? Read 'It Starts With US' to find out if the love almost all of us are rooting for is meant to be.
Leave a Comment
Your donation will support the student journalists of Thomas S. Wootton High School. Your contribution will allow us to purchase equipment and cover our annual website hosting costs.