Alumni, rapper, actor Utkarsh Ambudkar succeeds across industries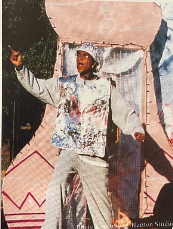 Known for his roles in "Pitch Perfect", "Never Have I Ever" and "Mindy Project", Utkarsh Ambudkar is not only a famous actor, but also an alumni. Last summer, Ambudkar returned to his alma mater after 22 years while filming an episode of celebrity home makeover. 
Ambudkar reminisced about his days as a young actor in theater. Counselor Elizabeth Robinson recollected her high school memories as a fellow class of 2001 graduate. "Utkarsh definitely had a larger-than-life personality, he was very outgoing. He was involved in all the theater productions but also anything Wootton spirit, which was very big and competitive. I don't think there's anybody that would say a bad thing about him, he was just a very nice human being, kind to everybody, good kid in school, outgoing, didn't care about what other people thought, just put himself out there," Robinson said. 
Ambudkar graduated in the class of 2001 and went on to receive a bachelor's degree in fine arts from the Tisch School of Arts at New York University. During his time spent here, Ambudkar developed a strong relationship with his theater director, Harriet Mittleberger. When Ambudkar's mother was hesitant about him pursuing a career in acting, Mittleberger was able to convince his mother that he had a talent for acting. "It's really because you told my mom to give me a chance, truly. I think if you [Mittleberger] had said 'no he doesn't have it' it just wouldn't have happened. You [Mittleberger]  changed the course of my life," Ambudkar said in an interview with Entertainment Tonight. 
Ambudkar made his first debut on "The Electric Company," a kids show, but has since transitioned into the comedic genre. Recently Ambudkar was on the Hulu limited series "The Dropout." His most famous roles include Donald in "Pitch Perfect" and Mr. Kulkarni in Netflix's hit-show "Never Have I Ever." He made his Broadway debut in Lin Manuel Miranda's improvisational hip-hop show "Love Supreme" in 2019. 
Ambudkar is one of few popular Indian American actors who has helped pave the way for future generations. Indian Americans are often stereotyped as doctors or scientists, but Ambudkar is showing the world that they can also be funny and talented at things other than math or science. Ambudkar has been cast in shows produced by fellow Indian American actor Mindy Kaling, including "The Mindy Project" and "Never Have I Ever." Kaling produced theground-breaking TV show "Never Have I Ever" with a predominantly Indian cast. "I feel more represented as a person who attends the same high school as actor Utkarsh Ambudkar. Although I'm not Indian, I'm still a South Asian American, and knowing that there's many South Asians in the American entertainment industry today makes me feel prouder of my identity and it makes it easier to embrace myself as someone who can relate to some of the experiences of these actors like Utkarsh Ambudkar," sophomore Naysa Mustafa said. 
Leave a Comment
Your donation will support the student journalists of Thomas S. Wootton High School. Your contribution will allow us to purchase equipment and cover our annual website hosting costs.
About the Contributor
Naina Giare, news editor



Sophomore Naina Giare is a news editor in her second year on the Common Sense staff. In her free time, she enjoys listening to music and spending...