Race for governor of Maryland commences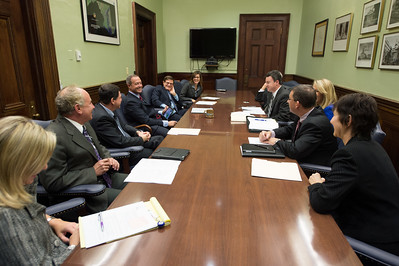 Currently, nine major candidates are running to be the next Maryland governor position, including 10 Democrats and three Republicans. Will the Democrats be able to win back the governor's seat from the GOP, or will the Republicans maintain control over this position? 
"
This is an important time in our political history and it is important to choose the person who will represent us."
— Zane Ghalib
Larry Hogan, current governor of Maryland is finishing his second and final term of office, per the Baltimore Sun. He is possibly seeking a presidential campaign according to Bloomberg. The Maryland primaries taking place on July 19 as well as the general election, which takes place on Nov. 9, present opportunities for major parties to gain or lose seats. "This is an important time in our political history and it is important to choose the person who will represent us," sophomore Zane Ghalib said.
This is a big year for Maryland in terms of politics. The different elections include the US Senate, House members, governor, State House, State Senate and more. Voting in these elections is crucial to the functioning of the government, according to ballotpedia. "There is a ballot measure in the fall that will attract a lot of attention – Maryland voters will be voting yes or no on the legalization of recreational marijuana," social studies teacher Cristy Rice said.
Democrat candidates for the governor's seat include Rushern Baker, Jon Baron, Peter Franchot, Doug Gansler, Ashwani Jain, John King, Wes Moore, Tom Perez and Jerome Segal. Republican candidates include Dan Cox, Robin Ficker and Kelly Schulz. Since the redistricting in 2020, the chances of Republicans winning elections have increased due to gerrymandered districts. "In school we stress the fact that whenever you get the chance to vote you should. For any election," freshman Dhyan Sesha said.
Maryland, in the past, has been a heavily gerrymandered state toward Democrats. This has resulted in more elections that have favored Democrats. The Supreme Court case Baker vs. Carr  addressed gerrymandering. According to oyez.org, the reapportionment of the districts must be done such that it accounts for the total growth of all parts of the state. The new district lines for voting were drawn differently to be more politically unbiased. A major change is the size of the districts, which were previously smaller but have been enlarged to encompass larger areas. This caused a shift in those districts making them more competitive in elections. 
Maryland's second and third districts have been redrawn to a larger size, which caused those districts to lean equally to either political party. District 8, the district where the Wooton cluster is, has been scaled down. It remains the same in terms of leaning toward Democrats by a similar margin (map). "When Maryland's district lines were redrawn last there was a predominantly Democratic state government and a Democratic senator. They are the ones who draw and approve the district lines, which means there is bias in how to draw the lines in the favor of the Democratic Party. There is a push to limit the political influence when it comes to drawing district lines by having independent companies draw lines instead," Rice said.
Leave a Comment
Your donation will support the student journalists of Thomas S. Wootton High School. Your contribution will allow us to purchase equipment and cover our annual website hosting costs.
About the Contributor
Shravan Kannepalli, staff writer



Shravan Kannepalli is a sophomore and a staff writer for Common Sense. He enjoys making beats, singing music, doing STEM activities and, spending...