Will Smith's Oscars fiasco met with concern, shock, disappointment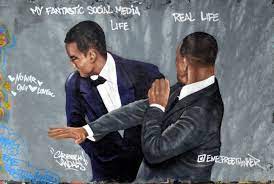 Will Smith's outburst against Chris Rock overshadowed any awards that were presented at this year's Oscars on [insert date]. As Rock was on stage, delivering jokes as he does so frequently, his joke about Will's wife, Jada, set him off. After Smith walked onto the stage and slapped Rock in the face, he exclaimed twice, "get my wife's name out your f***ing mouth!" Rock responded, saying that it was "the greatest night in the history of television." 
Rock's joke referenced the movie "GI Jane," in which the main character joins the military and shaves her hair. Jada, having shaved her hair due to dealing with alopecia, which results in hair loss, wasn't amused. Just minutes after the incident, Smith was awarded with the Best Actor in a leading role, and in his speech, he apologized to the Academy and others, yet he excluded Rock from his apology. Later that day, Will's son, Jaden, tweeted "And That's How We Do It" showing that he was, at the very least, less apologetic than Will. Lots of respect went the way of Rock, who stayed calm after the incident rather than escalating the matter, and in the words of "Good Morning America's" TJ Holmes: "Chris was keeping his head when everybody else was losing theirs." 
The academy has slapped Smith with a 10-year ban from attending the Oscars, however, he has not been banned from being nominated, so if he were to win an Oscar in the next 10 years, he will have to send a representative to receive the award for him.
Students have strong feelings about the incident. Senior Daniel Lee said, "As much as Will cares for his wife and wants to stand up for her, I think it was unnecessary, because at an awards show, the host has to make the audience feel comfortable and have uplifting vibes with the way that they present the awards. Guys like Chris Rock can say things that are a little bit offensive, but you're not supposed to take these things personally, because if you do, results will be like what happened to Will Smith. Just like if you slap someone in public, you're charged with assault. You have to choose between your ego and the consequences and sometimes you have to sacrifice a little bit of damage to your ego in order to not face difficult repercussions." 
Most students seem to agree with Lee. Junior Isaac Haile said,t "The host, Chris Rock, a comedian, was making a joke. Will's reaction was very out of pocket to act in such a way when they're supposed to be role models for children, he could have handled it better.  Jokes like Chris Rock can be ill-mannered, but it's not uncommon for comedians to make jokes like this, and as much as it offended Will and his wife, he should still have remained professional about it and not ruined his reputation."
Leave a Comment
Your donation will support the student journalists of Thomas S. Wootton High School. Your contribution will allow us to purchase equipment and cover our annual website hosting costs.
About the Contributor
Simon Kidane, managing editor



Simon Kidane is a 2022 graduate. When not writing articles, Simon likes to spend time playing sports like soccer, watch TV, and play video games....