Ketanji Brown-Jackson's SCOTUS hearings lead to confirmation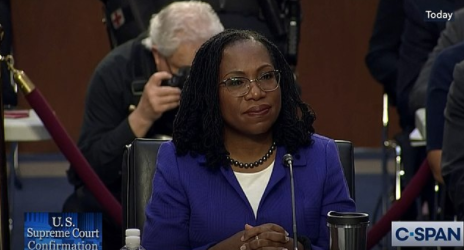 On Mar. 22nd, while students here at school may have been taking a test or doing a lab, Supreme Court nominee Ketanji Brown-Jackson was on Capitol Hill answering questions by members of the Senate Judiciary Committee. 
At the end of January, Justice Stephen Breyer announced he would be stepping down from the Court at the end of the term, so long as a new justice was confirmed. 
Once this news broke, people around the country were curious to see who President Joe Biden would nominate and if he would keep true to his campaign promise of nominating an African American woman. 
A month later, on Feb. 25, Biden announced he would be nominating Brown-Jackson to the Supreme Court. Prior to this nomination, she served on the D.C. Circuit Court of Appeals, the U.S. Sentencing Commission, and has also been a law clerk for Breyer. Most notably, if confirmed, she would be the first justice to have experience as a federal public defender. She will also be the first justice since Thurgood Marshall with experience defending poor clients. 
Like Jackson, every judge currently on the Court, except Kagan, all served as federal judges. However, Jackson spent close to nine years as a federal judge, which is longer than each period Chief Justice John Roberts Jr, and Justices Clarence Thomas and Amy Coney Barrett served, combined. 
One of the most memorable moments from her hearings occurred during Senator Ted Cruz's (R-TX) questioning. He asked her questions about her position on the Georgetown Day School Board of Trustees, including queries about the school's anti-racist curriculum. While displaying the children's book Anti Racist Baby, by Ibram X. Kendi, Cruz accused GDS of filling their curriculum with critical race theory, a university-level concept. Brown-Jackson responded to  Cruz, clarifying her role at GDS. "I have not reviewed any of those books, any of those ideas – they don't come up in my work as a judge, which I am, respectfully, here to address," Brown-Jackson said. 
Some students here were happy about her nomination and confirmation. "I believe that Ketanji Brown-Jackson will have a positive effect on the actions of the Supreme Court, and the decisions they make," freshman Madeline Eig said.
On Apr. 7, she was confirmed by the Senate in a 53-47 vote. All 50 Democrats voted for Brown-Jackson, with Republican senators Susan Collins (ME), Lisa Murkowski (AK), and Mitt Romney (UT) voting against party lines. Although most of the Senate chambers were happy with the results, considering this is the first time that a Black woman has been on the Court, not all felt positive. 
After the confirmation, Senator Mitch McConnell (KY), and many others from the Republican caucus left the chambers, leaving the room half empty. Before the confirmation, McConnell had made comments about his perspective on her nomination. "When it came to one of the most consequential decisions a president can make, a lifetime appointment to our highest court, the Biden administration let the radicals run the show," McConnell said. 
Although everyone might not agree with this confirmation, there is no doubt that her confirmation is an inspiration to millions of Black women in America, and around the world.
Leave a Comment
Your donation will support the student journalists of Thomas S. Wootton High School. Your contribution will allow us to purchase equipment and cover our annual website hosting costs.
About the Contributor
Claire Lenkin, managing editor



Junior Claire Lenkin is a managing editor in her third year on the Common Sense staff. In her free time, she enjoys hanging out with friends and...