'It Ends With Us': a powerful, heartbreaking novel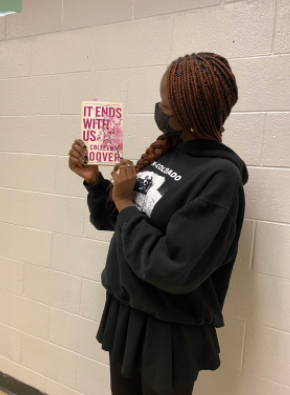 Have you ever felt like you were stuck between your past and present? Have you ever wished your past doesn't define who you are? Well, Lily Bloom went through the same thing, from a hard childhood with an abusive father to her recent relationship with a guy named Ryle. Just a fair warning though, Lily's "It Ends With Us" includes topics such as domestic abuse that may trigger some. Please proceed with caution.
Lily has just recently moved from Plethora, Maine, to Boston. One night she decides to go on a rooftop at an apartment complex down the street and meets a neurosurgeon who happens to be Ryle. She meets him at an unusual time. Ryle, who thought he was alone, was busy kicking a chair and letting his anger out. Then he saw Lily and that was where their story began.
What author Colleen Hoover did with the first interaction between Ryle and Lily was quite interesting. They created something called a "naked truth," where they essentially tell each other how they exactly feel without a filter. Ryle was introduced as this mysterious guy. You didn't know who he was and why he was so angry. He also happened to be smoking marijuana while they were talking, which I found quite ironic since he is a doctor. As far as Lily's first impression of Ryle, she felt the same way.
Hoover takes you back and forth between the past and present so you get a sense of who Lily is and what she has been through. She does this by introducing Lily's journals. Lily was a huge fan of Ellen DeGeneres, she would always write journals to her about her life. She would tell Ellen what she thought about "The Ellen Show" and daily incidents that would happen in her life. Except these journals weren't meant to be sent out, they were more like a diary where no one would read them except Lily.
Aside from Ryle being one of the "mysterious, lovely men" we meet, we also get introduced to a past lover: Lily's first love at the age of 15, Atlas. Atlas was a homeless 18-year-old boy who lived behind Lily's home in a vacant house. 
As time moved forward during their childhood, Lily and Atlas became closer and closer. Lily was providing Atlas with supplies such as food and blankets. There would be times where Atlas would sleep over Lily's house. In addition, there were times where Atlas would sneak into Lily's house and would spend quality time with her and would leave right before Lily's parents would get home.
From a young age, Lily always loved gardening. Readers learn about the love Lily has for gardening and how she changes her career and invests all of her inheritance into a flower shop. 
Six months after Lily and Ryles first interaction, Lily discovers that her first employee who works at her flower shop is Ryles' sister. This was quite shocking for Lily, considering the fact that she thought she would never see Ryle again. 
Time goes and you get to see Lily and Ryle interact more and more. A love story begins and as a reader I was a huge fan of Ryle. I thought that after all this time, all the pain and trauma Lily went through, that she had found the right guy. Unfortunately, I was wrong. 
Lily saw a new side to Ryle that changed everything. A side that even readers were not expecting: it brought pain and a sense of grief. When you lose the idea you envisioned of your loved one and they happen to be the exact opposite, you grieve what you used to have, who they used to be.
Lily began believing that she had become what she hoped to never become, her mother. Growing up she was always confused why her mom stuck beside her dad. Especially after all the abuse, Lily despised women like her mother and wished to never become like her. It took her a while to realize the real truth to why her mother stayed with her father. Once she did find out, her mother advised her to be better than her and do what's best.
Want to hear my "naked truth"? This book tore me apart. It broke me into pieces but it was all worth it in the end. It was a book about a woman who fought her battle, stuck up for herself and overcame her fear. It wasn't easy, but she did it and I think that's one of the best gifts this book has to offer: To be there in the beginning of their journey and see where they end off. This book is amazing if you want to read something raw and real, yet so painful and heartbreaking.
Leave a Comment
Your donation will support the student journalists of Thomas S. Wootton High School. Your contribution will allow us to purchase equipment and cover our annual website hosting costs.