March celebrates women's history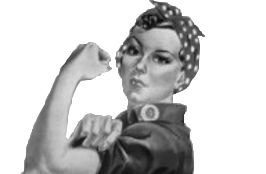 Women's History Month highlights the contributions made by women in history and contemporary society celebrated in March. After the National Women's History Project, an American non-profit organization dedicated to honoring women's history, petitioned for a recognition for women, Congress passed Public Law 100-9 which designated March as Women's History Month.
Fevronia Cresham, a social studies teacher, acknowledges Women's History Month as important to social equality. "I think Women's History Month is important because we have to recognize all of our minorities in some manner during the year. Women, even though we are not a minority population-wise, we still have a minority status in many ways, just as a lot of our other groups that have been discriminated against in the past. I think it is extremely important because we have to keep reminding people that it is not okay to treat different genders or races or anything else as different. We are just as capable as anyone doing anything that we want. I also think we have proven that but so have other minority groups. It seems like we have to keep calling attention to that to certain people," Cresham said.
Sophomore Pravalika Palavarapu sees Women's History Month as a learning experience. "People need to know women's history because it is important to learn about everything women have been through and their struggles. We can all learn from their stories and experiences," Palavarapu said.
Cresham believes that Women's History Month is meant to not only empower women, but also honor women public figures who fought for equality. "There are so many women public figures that I have looked up to as a kid. I can't even count. Somebody that comes to my mind right away is Justice Sandra Day O'Connor. She's a more recent person. As a lawyer myself, I know when I went to law school, women were still in the minority, unlike today. I know that I faced some discrimination when I went out into the workforce. But it was nothing like what Sandra Day O'Connor had to deal with. It was very difficult for her as a woman to be accepted into a legal profession. She actually worked as a secretary for many years because no one would hire her as a lawyer. I think it says a lot that at the end of her career, she became a justice on the Supreme Court," Cresham said.
Women's History Month traces its origins back to the first International Women's Day in 1914. This year, on Mar. 8, Prince George's County Public Schools were closed for students as a holiday to honor International Women's Day, but Montgomery County Public Schools were not. "There are a lot of days off for religious holidays because several people follow those. But holidays are also to honor people and raise awareness. We have Labor Day, Memorial Day, and other tribute school days off. I think International Women's Day is significant and important enough to get a school day off," sophomore Varsha Krishnan said.
The National Women's History Project is holding honorees for this year's National Women's History Month. The theme honors women who have successfully challenged the role of women in the labor force.
Nitya Kumar
Staff Writer