Madden 22: Great display of next gen graphics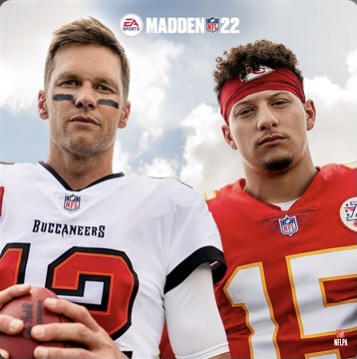 EA sports' newest edition of the popular game franchise, Madden, is being sold in stores nationwide and is emerging as one of the most popular sports games to release in the past 3 months. EA is releasing a standard edition, MVP edition and Dynasty edition games. The differences in the editions include getting free packs and free coins to start off your journey in Ultimate Team.
The release date was Aug. 20 and was anticipated as one of the best looking games since MLB The Show released on April 20. EA was able to include frostbite graphics, which intensify the gameplay and make it look even more realistic. EA also added new celebrations and new game modes such as Face of the Franchise and Campus Legends, where you can play as old NFL players using their respective college teams with a more arcade type of game experience. It is awesome to play with old college players as it brings back nostalgia of when NCAA 14 was out on Xbox and you could play with all your favorite college teams. 
EA went an interesting route with the cover athletes and chose Patrick Mahomes and Tom Brady. Mahomes appears to be the new face of the league, collabing with Tom Brady, who has been the face of the league for quite some time. Madden 22 has impressed me as the gameplay is smooth, all rosters are updated and the graphics are astonishing. 
The game has only minor flaws such as the fact that running quarterbacks are too overpowered, and loading up the game is somewhat slow and could be improved.
I recommend buying this game if you enjoy football and want an awesome and realistic gaming experience. Right now the game costs $60, but will go down with holiday sales and as the game's popularity fades. 
Ultimate Team is my favorite game mode because you can build a team from scratch and grind to get coins and buy players in order to get a good team. It is incredibly time consuming if you want to build a good team, but the process is enjoyable and once you get that 90 overall team it feels rewarding after putting in all that effort. You can play against online teams, with friends, or do solo challenges, where you play against the CPU and rack up coins and packs. 
If you are not into building a whole team, I would suggest playing Face of the Franchise, where you create your own player and start a career only using that player. The goal is to work your way into the starting lineup and break out when you get the opportunity to show the league what you are made of.
Madden has definitely lived up to its hype for this year and I am happy with my purchase of the game.
Leave a Comment
Your donation will support the student journalists of Thomas S. Wootton High School. Your contribution will allow us to purchase equipment and cover our annual website hosting costs.