Anna's Book Nook: Ode to Barnes & Noble workers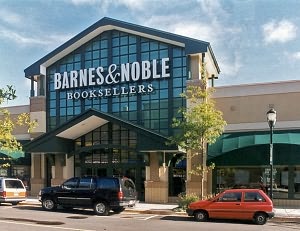 Ode to Barnes & Noble workers. They pretend they don't see me trip on the escalator, they always seem to swoop in exactly when I need help, and they give the best recommendations. Ah, Barnes & Noble workers, you never fail to make my book shopping experience memorable.
I never gave the employees the appreciation they deserved until recently when I changed my book search methods. Before, I would only set foot in a book store when I knew what I wanted, but I have since adopted a more laissez faire approach. Upon entering Barnes & Noble with fresh eyes last fall, I was greeted and guided by the most helpful and excited retail workers I have ever seen in my life. They guided me through the overwhelming paradise of pages and helped me get out of my book slump. I will forever be in their debt.
One employee stands out above the rest, the MVP of books and my literary guide: Lois. Lois works at the store in the Rio and has helped me on several occasions discover some of my favorite authors, including Madeline Miller. She writes recommendations on my receipts, always gives me good insight without spoilers and steers me away from books she thinks would not match the type of literature I like. My savior, Lois, is the reason I make the trek to the Rio store when there is a bookstore much closer to me.
I first met Lois when I picked up The Song of Achilles. She did not hesitate to commend my choice and stopped to have a conversation with me about the book. She talked about the character index, the story format and the characters themselves in a way that made me excited to get home and start reading. We chatted for at least 10 minutes about the characters, their original myths and her tips for how to read the book. She talked about the characters like old friends, and that experience alone brought me back the next time and the time after that. Now, I actively seek out Lois when shopping in Rio for books because to find a book that you will love, you need to find a book lover.
I know that Barnes & Noble is a commercialized bookstore, and I used to avoid it like the plague, but I have seen first hand the joy that springs to the employee's face when they are asked their opinion or any question for that matter. These people really love what they do, and I envy their job. Until I work at a bookstore, this column will satisfy my constant need to talk about books. But, if even one person reads this column and decides to read, I will give myself a sticker because that is all I really want. I want the person who was convinced by themselves or those around them that they couldn't read to finally realize that they can.
The reason I started this column was because I saw a need in the community. Not a need for another teacher telling us to absorb the literary devices or analyse the text. Not a need for a recommendation of some "novel." The community needed unsolicited book opinions from an under qualified high schooler. Yeah, me, and I am being totally serious. I started this column because for my whole life I was told you could only read and be a reader in one way. The glasses, the scarf, the classics, and I think many of my peers feel the same way. But there is no one type of reader and there is no right or wrong book. We needed someone who didn't care about the message of the book and someone who has no idea what they are talking about.
Reading is hard, but it should never feel like a hassle or a chore. I have tried over the course of the year to find books that I genuinely enjoyed over a variety of genres. There is no "one size fits all" book and I do not think that rhetoric should be pushed on us in the first place. Truthfully, that is the beauty of Barnes & Noble workers. They do not care if you walk in wearing a dress, sweat pants, or a muddy field hockey uniform. They greet you with the same smile and will guide you to your Goldilocks book. Don't like romance? No problem. A big fan of sci-fi? Boy, do I have the book for you. Next time you need a book, go say hello to Lois at the Rio.
About the Writer
Anna Keneally, front page editor
Anna Keneally is a junior and the front page editor on her third year with Common Sense. She is extremely excited to see the newspaper grow virtually....