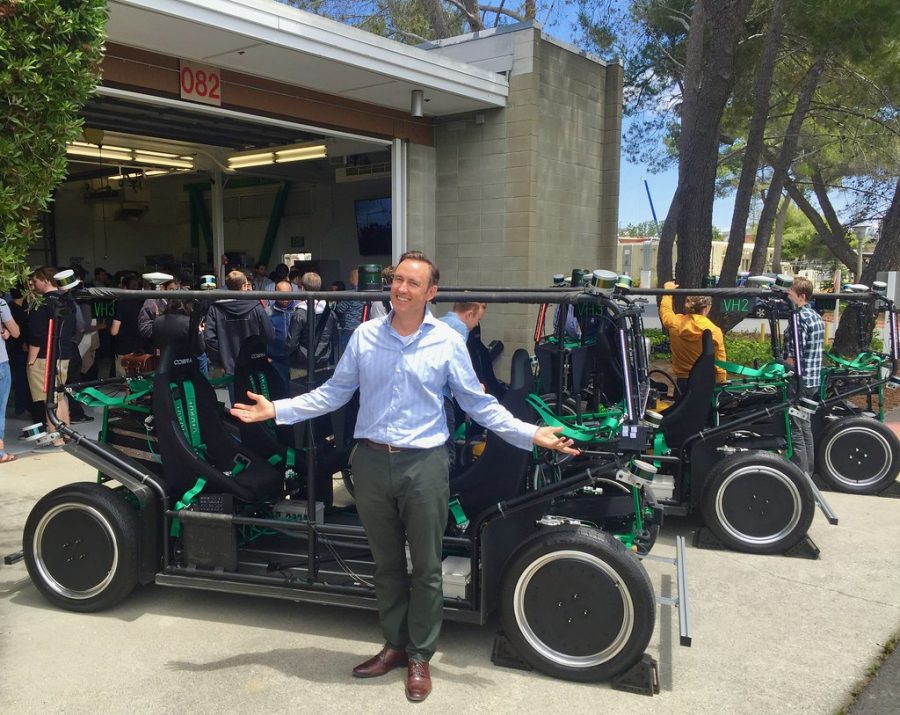 Photo used with permission from Google Commons
Amazon, the multinational technology company founded by Jeff Bezos, is the second most valuable company in the U.S., according to CNBC. The company is worth over $1.2 trillion as of Aug. 26, 2020. Despite already being branched out in a wide range of industries, such as e-commerce operations, food retail and entertainment, Amazon's vehicle company, Zoox, revealed on Dec. 14, 2020, its prototype of a self-driving electric robotaxi.
Founded in 2014, Zoox was bought by Amazon early in 2020. Unlike the cars today, the robotaxi does not have a steering wheel and brake pedal since it is a self-driving car. It has a 133kWh battery, which is "roughly twice the size of many electric vehicles sold today," allowing Zoox to run up to 75 mph for 16 hours after fully charging one time, according to CNN.
Inside, is carriage-style seating, where a maximum of four passengers are able to face each other and speak comfortably. Each of these seats have airbags as well. "I think it's really cool how Amazon is creating these robotaxis. People are able to talk to each other easier and if Amazon intends to use these vehicles similar to Uber, it would be less awkward since there is no driver. I think it's efficient, but I wonder how this will affect employment for drivers," senior Hans Cherukrui said.
While there are other robotaxis being developed, such as the Alphabet's Waymo and GM's Cruise, Amazon's Zoox has "bidirectional driving capabilities and four-wheel steering," letting the vehicle change directions more efficiently and "navigate in compact spaces" according to CNBC.
According to CNBC, Zoox is able to do this with cameras, radars and lidar sensors, which are on the four corners of its car, giving it a "270- degree field of view on the road," essentially making it safer because the blind spots are no longer an issue. "This technology is definitely safer since the blind spots that humans can't see are eliminated. If this car is able to detect, determine and stop in situations, I think Zoox will be safer and it would also be better for the environment," junior Annabelle Cho said.
Zoox plans to use these autonomous robotaxis as an app-based ridesharing service, first launching in San Francisco and Las Vegas. Currently, Zoox is testing in three locations in Las Vegas, San Francisco and Foster City, CA. There are still questions that the company has not yet answered, like if Zoox is wheelchair accessible or if passengers need an Amazon Prime subscription to be able to ride, but we do know that these robotaxis will be more efficient and eco-friendly. "I believe Zoox needs a lot more improvements. If they are not wheelchair friendly, then they are not providing service for a specific group of people. Also, I think people shouldn't need an Amazon Prime subscription to be able to ride because some people may not have the needs to pay for it every month, or people might not even use Amazon that often so subscribing to get one ride seems unreasonable," senior Anela Trakic said.