Fall play pre-production begins; students audition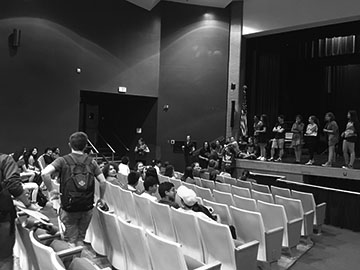 The auditions to perform in this year's fall play, Much Ado About Nothing, took place on Sept. 12 and 14 and drew in a crowd of around 60 participants, much fewer than the annual spring musical auditions' turnout which ranges into the hundreds. One hopeful contestant, junior Zack Cassidy who is a frequent participant in this school's performances, believes the lower turnout is due to "the play being Shakespeare, which isn't all that interesting to a lot of people."
The audition process takes less than 20 minutes as the hopeful actors enter a room, with one to six people performing with each call-in. There are allotted times for these auditions, with them taking place at particular times after school. While the process seems out of the actors' control, the students do have the option of the style of their audition. "You have the option of either doing a monologue selected by the judges or you can perform a conversation with another person," Cassidy said.
Much Ado About Nothing is one of Shakespeare's wittiest works as it follows a devious couple who plan to pull a master scheme a week before their wedding. The story, conflicts and dialogue are gut-bustingly funny and, despite being hundreds of years old, its plot is still relatable to this day. Members of the fall play have an opportunity to put on an unforgettable show and bring Shakespeare's vision to life. "Being in a show is not only terribly fun," Cassidy said, "but also rewarding and life-changing."
Despite the focus on the actors in the pre-production process, the backstage crew must also be assembled to ensure a successful and seamless outcome. Members of the lighting and sound crew, the runners and everyone else in between rely on the newly-cast actors to cooperate with the craziness that the production has to offer. Experienced members of crew like junior Janel Berlinger will prepare for opening night just as much as everyone else in the pre-production process. "We have a new member meeting on Sept. 18 after school and preparation for the play begins later in the week," Berlinger said.
The students aren't the only ones getting ready for the play. Jessica Speck, an English and theater teacher, has been working just as hard to make sure that the production is its best. As a member of the judging panel, composed of five teachers, Speck listens to each audition carefully and deliberately as she is looking for the premiere actors to feature in the play. Her scoring decision is composed of a five point scale with the categories of facial expression, stage presence, voice and physicality. "We take into consideration the actor's strong character choices and whether they are thinking about what they are saying," Speck said. "We also notice how well they mask their nervousness."
Much Ado About Nothing opens on November 10 and has performances on Nov. 11, 17 and 18.
James Barberis
Arts Editor