Dina Sapiro skates to victory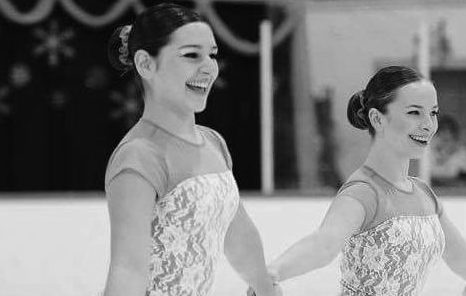 From a young age, sophomore Dina Sapiro has been killing it in the figure skating world.
Sapiro competes on the D.C. Edge synchronized skating team and is entering her sixth season with them but she began skating when she was in fourth grade. "I wasn't serious about it and I didn't think it would go anywhere," Sapiro said. "But then in sixth grade a friend told me about synchronized skating and asked me if I wanted to try out for an organization called D.C. Edge. I tried out and made their beginner three team. It was so much fun and I loved it."
After competing with the team for year, Sapiro was put onto the juvenile team, which "was a great year too," but the team was not able to "make it to nationals which was devastating," Sapiro said.
In eighth grade Sapiro made it to the intermediate team. The team experienced one of their best seasons as they won all of their competitions, becoming the 2015 Eastern Sectional champions and later the 2015 United States synchronized skating national champions. Sapiro just came back from the 2017 synchronized skating championships in February. "My team did super well and had our best skater earning our highest score and seventh in the nation," Sapiro said. "Competitions are so fun because you make so many great friends from other teams and it's one big amazing bubble filled with friends. It's like a whole community."
Competing can get stressful yet Sapiro finds comfort in her 17 teammates. "Competing is super nerve racking but you have 17 of your teammates right there with you which is probably the best part," Sapiro said.
To prepare for her competitions Sapiro trains every day at local ice rinks both before and after school, and frequently on the weekends. "It is really tough balancing skating with school. I miss a good amount of school for competitions and it sucks," Sapiro said.
Despite the demanding training schedule, Sapiro finds skating rewarding. "Skating helps me learn how to constantly better myself in every aspect of life," Sapiro said.
Sapiro hopes to skate in college, with her end goal being to skate for team USA. "The best part about skating is that when you're on the ice, nothing else matters, and you can just skate you heart out. And every time I get on the ice and practice, I get better, which is just the coolest thing to me," Sapiro said.
Maria Hafeez
Editor-in-Chief