Woottball, formerly known as Powder Puff is back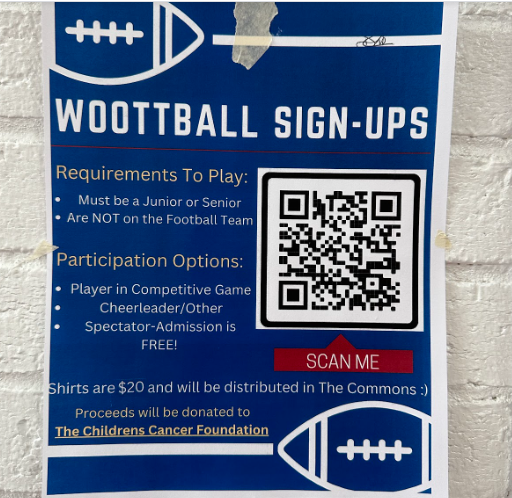 Woottball, formally known as Powder Puff, is a flag football game for upper class girls that gives an opportunity for them to play football at school.
Certain rules are altered, such as no tackling. In most cases, male students coach the team. Powder Puff was introduced in the early 1970s after Title IX was enacted. Title IX states, "No person in the United States shall, on the basis of sex, be excluded from participation, in be denied the benefits of, or be subjected to discrimination under any education program or activity receiving Federal financial assistance."
On Sept. 28 the SGA announced that Wootball is on. They informed students through an Instagram post on the official SGA account. It said juniors and senior students and gender was not mentioned. The game will be held on Nov. 18.SGA wanted to bring back Woottball because they knew it was an activity students like. ' "We wanted to create an initiative that matches our 'get up, get out, get active' SGA theme. We wanted to bring back an activity people have been known to like, just give it a modernized spin so it is more inclusive for the Wootton community," According to SGA.
SGA believes it is a great opportunity for school spirit and for students to get involved with the community, "This activity was brought back to bring Wootton together for a fun activity no current students have ever had and yes definitely for spirit," According to SGA
Woottball is an opportunity for all students except the football team. Junior Mathew Cortes, running back and linebacker for the football team, said he thinks that it is fair that the football team members can't join Woottball. "I think it's completely fair that football players aren't allowed to join. They know the game, they know what's going on better than those who don't play the sport," Cortes said.
Cortes also said he believes that this is a great opportunity for girls. "I think Powder Puff is a great opportunity for girls to get active and have a great time with everyone involved," he said.
Rival school Churchill has a Powder Puff team this year. Junior Kalena Yee is a part of Churchill's SGA as the historian/social media representative. "Both boys and girls are allowed to join Powder Puff. Typically only girls join, I don't think we have ever had a boy participate so far, at least not this year," Yee said.
Churchill's SGA has created a similar concept, having students purchase Powder Puff merchandise to be able to participate in the game. Yee also said there is difficulty coordinating practices considering the fact that the coaches for Powder Puff are players from the football team, "Juniors and seniors have to buy a customized T-shirt as a jersey in order to participate in the game. We had a supply of 200 shirts, and we were very close to selling out. A lot of girls wanted to participate but not a lot of guys. It was a little difficult to coordinate practices because we had football players as the coaches and they couldn't coach after school because of practice. We had to move practices during lunch, which discouraged a lot of participants from showing up. However, we made the most of what we had and hopefully our hard work will turn out at the game," Yee said.
Like this school, Churchill also created an opportunity for students to participate in Powder Puff for fun and to help boost school spirit. Lee believes it will get students involved. "Powder Puff was created as a fun way to boost school spirit and to get more students involved. It also creates a friendly competition between the junior and senior class. It's also a way to socialize, make new friends, and work together as a team with classmates," Yee said.
Junior Alexa Vinner is a flyer for the Varsity Cheerleading team. Cheerleaders build enthusiasm for the crowd and players by performing. Vinner is going to be a participant for Wootball. She is both excited and concerned. "I'm excited to play against the seniors and I'm also excited because we haven't had Wootball in a while and I feel like this can bring back fun spirit. It's going to be different playing on the field instead of cheering for my friends. There's not a lot of practice time and I am concerned that we will not win," Vinner said.
Leave a Comment
Your donation will support the student journalists of Thomas S. Wootton High School. Your contribution will allow us to purchase equipment and cover our annual website hosting costs.