Former Wootton football star set to get drafted into NFL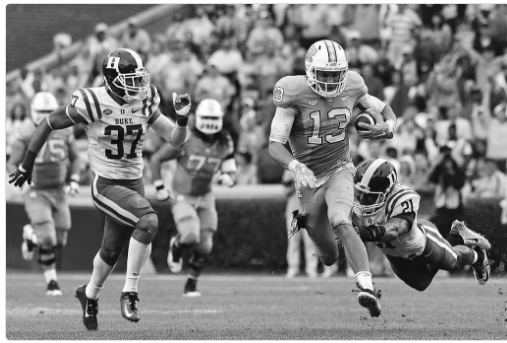 The former Wootton Patriot could become a New England Patriot. The dominating wide receiver could transfer his star performances to the NFL. The 2017 draft prospect Mack Hollins, could be drafted in the first couples rounds.
Hollins has a chance to enter the National Football League as 23-year-old prospect wide receiver. Hollins received an invite to the 2017 NFL combine, after having a breakout senior year at the University of North Carolina.
The NFL Scouting Combine is a week-long showcase occurring every February at Lucas Oil Stadium in Indianapolis. Here, college football players perform physical and mental tests in front of National Football League coaches, general managers and scouts. Hollins participated in the combine with some of the top wide receivers in NCAA football. After a great performance, Hollins now waits for the 2017 NFL draft to see what his fate will be.
Hollins grew up in Rockville and attended Lakewood Elementary School. For sixth, seventh and eighth grade Hollins went to Westland. He attended Wootton for both his freshman and sophomore years. Both of those years he played wide receiver for the junior varsity football team. For his junior and senior years, Hollins attended Fork Union Military Academy in Fork Union, Virginia. "He was the best receiver I played with and always worked so hard in the weight room and on the field," teammate and current coach Chris Papadopoulos said.
When Hollins is in his offseason or is home for the holidays, he occasionally helps out with the varsity football team. Hollins brings back his experience and knowledge to help the team and people who aspire to be like him. Hollins mostly works with the wide receivers when he helps out with the team. "Knowing Mack Hollins, a wide receiver who went to Wootton and is now entering the NFL draft is such an honor. Also, being able to learn from him and improve my skills as a wide receiver was awesome," sophomore Noelly Miller said.
In both of his seasons here, Hollins dominated all his opponents at the junior varsity level. After his first two seasons, Hollins had some complications with coaches on the varsity team and transferred to a military academy. After attending a military academy for two years, Hollins went to the University of North Carolina. Being a 6′ 4″ 209 lbs monster, he tried to walk onto the football team at UNC. Hollins impressed the coaching staff on the football team, and had himself a spot on the roster.
For his first season, Hollins only suited up for eight games, and had no recorded statistics. During Hollins' sophomore year, he accumulated 35 receptions for 613 yards, and eight touchdowns in 13 games. In his next season, Hollins also had a great year, ending in 30 receptions for 745 yards, and eight touchdowns in 13 games. After Hollins' senior season, he had 16 receptions for 309 yards, and four touchdowns in only seven games. Hollins was sidelined by an injury during his seventh game against Miami (FL). Hollins would recover from his injury, and attend the 2017 NFL combine, to show coaches what he's got.
Aaron Strauss
Staff Writer